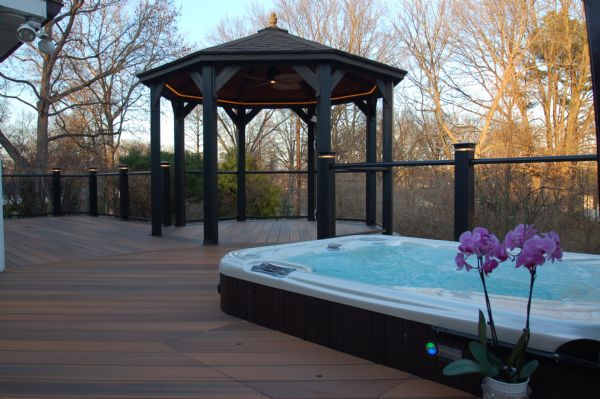 Gazebos / Pavilions / Cabanas - St. Louis, MO
Complete your outdoor landscape with a gazebo, pavilion, or cabana and create an impressive focal point to your backyard landscape where family and friends can gather to enjoy the great outdoors.
At California Custom Decks, we offer an impressive selection of gazebos, pavilions, and cabanas for every backyard setting in the St. Louis area.
So which should you choose?
Your choice of structure really depends on your unique needs. We offer some helpful information below to help you decide whether a gazebo, pavilion, or cabana will work best in your St. Louis neighborhood.
---
Gazebos
Gazebos offer beauty, shade, and protection from the hot sun throughout the Spring, Summer and Fall in the St. Louis area. Whether you'd like to create a unique garden centerpiece, watch the birds play, or simply relax with a good book and a glass of lemonade on a hot summer day, a gazebo offers the perfect setting for rest, relaxation and entertainment right in your own backyard.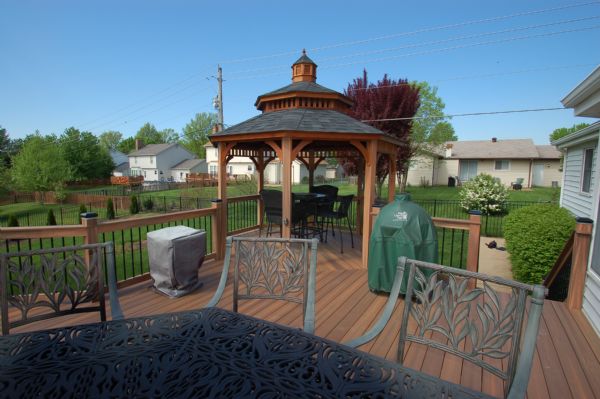 Gazebo Designs That Make a Great Impression
Our gazebos come in a variety shapes and sizes and are available in traditional wood or low-maintenance vinyl styles. We offer gazebos with unique features that can serve as an impressive focal point or blend into an already impressive backyard landscape.
The Perfect Addition to Your Deck or Patio
Gazebos don't have to be stand-alone structures. We can build a gazebo into your deck or patio design to create architectural interest as well as the perfect spot to escape from the sun or relax in the spa.
Romance is in the Air!
Romantic moments await! Moonlit dinners for two, a relaxing dip in the spa, a bit of star gazing - these are just some of the treasured moments you'll share with the one you love when you add the beauty of a gazebo to your backyard setting.
Gazebos are Made for Entertaining
Our larger gazebos make the perfect place for outdoor weddings, summer barbeques and parties of all kinds. Make the memories you'll treasure forever in the comfort and privacy of your own backyard.
---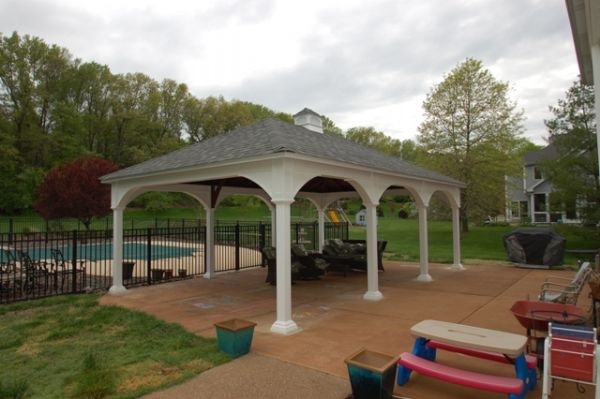 Pavilions
Offering great protection from the sun and rain is the pavilion's claim to fame. A pavilion can serve to bring all the elements of your backyard design together and create ample shaded space for summer barbeques, entertaining or relaxing. Available in a variety of size options for backyards large and small, pavilions are offered in wood or vinyl styles to match your tastes and blend with your outdoor decor. Pavilions also make excellent additions to your pool area, providing welcome shade or a quiet place to relax while the children splash the day away.
Cabanas
Offering elegance and flexible options, our outdoor cabanas can serve a number of useful functions in your backyard landscape. Use them poolside to change clothes or provide a relaxing place to rest after a great swim. Or create an office or hobby center overlooking your backyard landscape. The enclosed space of a cabana offers excellent protection from the elements during every season in the St. Louis area and can be outfitted with lighting and electrical features too.
Whether you choose a gazebo, pavilion or cabana, California Custom Decks can install your new backyard structure to blend with your existing landscape. We invite you to visit our showroom to see our gazebos, pavilions and cabanas up close and personal and explore all the options available.
Have questions?
Contact our helpful experts who will be glad to work with you on your next backyard project, offering helpful advice and experienced builders throughout the St. Louis area.